Famous and wealthy funnyman George Simmons (Adam Sandler) doesn't give much thought to how he treats people until a doctor (Torsten Voges) delivers stunning health news, forcing George to reevaluate his priorities with a little help from aspiring stand-up comic Ira (Seth Rogen). Judd Apatow (Knocked Up) writes and directs this moving comedy that also stars Leslie Mann, Jonah Hill, Jason Schwartzman and Aubrey Plaza.
This movie is a dramedy. It had its moments but I thought 40 minutes too long. I am giving it 2.8 stars. If it was 40 minutes shorter I would have been given it 3. I do like Judd Apatow, I want him to produce my script when it is completed.
Alan
Alan Zibluk
The Internet Guy
http://www.alantheinternetguy.com
e-mail: alan@alantheinternetguy.com
The Original Internet Guy Website (2004)
http://www.internetguy.ws
Who is Alan Zibluk - http://www.alanzibluk.com
Charlie Kafuman (Nicolas Cage) is a Los Angeles screenwriter battling enormous feelings of insecurity and impotence as he struggles to adapt The Orchid Thief, a book by Susan Orlean (Meryl Streep) whose main character, John Laroche (Chris Cooper), searches for love. Add to the mix Charlie's twin brother, Donald (also played by Cage), and you have a surreal, Spike Jonze directed gem about the search for passion.
This is one of those movies that begins slowly and gradually builds into something. It took me 40 minutes to get into this movie, 60 minutes to love it and hope for the experience not to end. Then the last 25 minutes it got me to hate this film. Seriously! This was a really bad relationship. Smooth move Netflix for recommending this piece of garbage for me. I loved this movie and then I was let down big time in the end. I hate it when a movie starts out great and then ends badly. This is one of those movies. All of you associated with this movie let me down. I am giving you one star.
Adaptation is one of few movies I would never want to see again.
Alan
Alan Zibluk
The Internet Guy
http://www.alantheinternetguy.com
e-mail: alan@alantheinternetguy.com
The Original Internet Guy Website (2004)
http://www.internetguy.ws
Who is Alan Zibluk - http://www.alanzibluk.com
In this twisted thriller from Joss Whedon and Drew Goddard, five friends arrive at a secluded cabin with clear instructions for their anticipated mountain getaway. But when the rigid rules are broken, punishment is swift -- and everyone will pay.
Cast: Kristen Connolly, Chris Hemsworth, Anna Hutchison, Fran Kranz, Jesse Williams, Richard Jenkins, Bradley Whitford, Brian White, Amy Acker.
I am a fan of Joss Whedon's. I was first introduced to his work in September 2002 with the short lived TV series Firefly. I then started watching Buffy the Vampire Slayer and later Angel. Most recently I enjoyed 2012's "The Avengers". I enjoy witty dialogue and clever plot twists. I have yet to be disappointed in anything he is associated with.
Richard Jenkins and Bradley Whitford are a hoot in this. I was so moved with Richard Jenkins' performance in North Country it was fun to see him have fun. A very prominent, successful actress associated with Joss Whedon's movies made a surprise guest appearance towards the end.
I am not at all into slasher movies. I've seen a bunch in the 1980's and have no desire to see any more. I would not have watched this movie if it wasn't for Joss Whedon's name. I had such a good time watching The Cabin in the Woods. I went in knowing this isn't real and could never happen. Some might categorize this movie as mindless fun. I am giving this one 3.7 stars. I liked who surprisingly emerged as the male hero in the end.
Click here for the Netflix link in case you would like to add it to your queue.
Alan
Alan Zibluk
The Internet Guy
http://www.alantheinternetguy.com
e-mail: alan@alantheinternetguy.com
The Original Internet Guy Website (2004)
http://www.internetguy.ws
Who is Alan Zibluk - http://www.alanzibluk.com
http://youtu.be/hiSmlmXp-aU
Filmmaker Robert Greenwald takes aim at the corporate giant that's come to symbolize big business in America Wal-Mart blasting the box store Goliath for allegedly paying substandard wages, skimping on employee benefits and gutting communities. This hard-hitting, emotional documentary profiles the struggle of everyday folks from around the country who've committed themselves to fighting the mega-retailer.
When I watch a movie like this I like to hear both sides. You will only hear one side in this one. I can tell you alone of the Walton Family charitable contributions is reason enough not to like them. Apparently there has been a lot of crime in Wal-Mart parking lots. They have security cameras everywhere but only pay attention to what is going on inside the store. Customers and ex-employees said they really don't care what happens to the customer once they leave.
Alan
Alan Zibluk
The Internet Guy
http://www.alantheinternetguy.com
e-mail: alan@alantheinternetguy.com
The Original Internet Guy Website (2004)
http://www.internetguy.ws
Who is Alan Zibluk - http://www.alanzibluk.com
Rent-a-cop Ronnie Barnhardt (Seth Rogen) is tasked with keeping the peace at the Forest Ridge Mall, but when a flasher strikes, Ronnie has no gun and no power to stop the exhibitionist. A rivalry ensues when the police send in Det. Harrison (Ray Liotta) to crack the case. Can Ronnie bring the flasher to justice before the well-armed Harrison does? Anna Faris also stars in this darkly comic effort from writer-director Jody Hill.
This movie is a dark comedy. It is Taxi Driver meeting The Cable Guy. Seth Rogan plays a true sociopath. You feel sorry for him one moment and the next he is just scary. With the exception of the woman who serves coffee and one police officer in the background, there is not a likeable character in this movie. I can not recommend this movie to anyone except if you enjoyed both Taxi Driver and The Cable Guy. Like I said it is a dark comedy. I liked it because if validated my decision years ago to stay far away from these people. I am giving it a solid 3 stars.
Alan
Alan Zibluk
The Internet Guy
http://www.alantheinternetguy.com
e-mail: alan@alantheinternetguy.com
The Original Internet Guy Website (2004)
http://www.internetguy.ws
Who is Alan Zibluk - http://www.alanzibluk.com
Hello, and welcome to my WordPress blog! With Global Domains International, anyone (including you) can create and host their own WordPress blog at their own custom .WS domain. In addition to my WordPress blog, I also have access to the following products: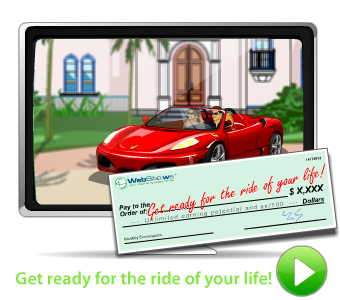 Global Domains International is the official registry for all .WS domain names. When I began my 7-day FREE trial with GDI, I selected my own personal .WS domain name to use in conjunction with all provided services, such as hosting my own blog, website, and using truly personalized email.
---
GDI WebMail allows me to use my own domain name as my email address and I can access my email through my account from any Internet connection in the world!
Instead of using a long and hard to remember email address like mwalker554878@yahoo.com, I can use MyName@MyDomain.ws. For example you could have Sally@Smith.ws and each person in your family or business can use your domain name as well such as Bill@Smith.ws etc., up to 10 email addresses!
---
Professionally designed by graphic artists, these WebSite templates give you the foundation for building your own personal site. There is no programming or complicated coding, simply follow the easy-to-use instructions to create a dynamic and professional WebSite!
I can create your site quickly, then make changes if I'd like, or I can spend several hours creating the perfect site for myself. I also have 24/7 access to my WebSite's control panel and can make changes at any time and as often as I'd like! I can also view the changes before I publish them to the world.

---
For more advanced customers, one can take advantage of our hosting service. This allows me to build a site from scratch bypassing some of the user-friendly restrictions built into the previously mentioned SiteBuilder option. This allows me to build a custom WebSite just as I want it, then upload the files to GDI's servers. Hosting gives the ultimate in flexibility!
GDI has scoured the web looking for diverse open source services that are powerful but don't require excessive technical know-how. They are continuously adding new plugins. Current Plugins include:
---
In addition to receiving awesome products, there is also an income opportunity for those who are interested!
Global Domains International, Inc. is the worldwide domain name registry for all .ws (Dot WS) domain names. Our product is an incredible $10 per month package that includes your own domain name, hosting accounts, and up to ten email accounts, plus an easy-to-use online web site builder that will allow you to get a professional looking web site on the web as quickly as possible. And the best thing is, you can try out everything we have to offer, starting today, for FREE.
The domain industry is exploding! Industry experts predict that over 500 Million domains will be active annually within the next ten years. GDI has no competition in the network marketing industry. We are the only company that has the ability to market our domain names through the power of network marketing, and we're willing to pay you handsomely for helping us get the word out worldwide. There are no geographical or income limits with GDI.
If you have already taken a moment to watch our exciting, brief presentation, you already know this. If you haven't, then click here and "Get Ready for the Ride of Your Life!". Or, try out our income calculator and imagine the unlimited potential of this once in a lifetime opportunity.
Ways You are Compensated
5-Level Uni-Level Compensation
This is our standard compensation plan that ALL affiliates qualify for, even those who are still in their free trial period. Basically, you are paid $1 per month, per domain, that is registered in your 5 level network. A uni-level compensation plan is the most simple plan in network marketing, and the key to our quick growth.
You are not limited by width. You can refer as many people as you want to, and so can those people that you refer, and so on.
Here's an example. You refer 5 people to our product/program. That pays you $5 per month. No big deal? Hang on, you'll see the power of this. Each of those 5 people then refer 5 of their own, so you're now getting paid an additional $25 per month on your "second level". Each of those 25 can refer as many as they want, but for consistency we'll say that they too refer 5 each. That's $125 in monthly commissions on your 3rd level. If the trend continues, you'll have $625 in monthly commissions on your 4th level, and $3,125 in monthly commissions on your 5th level.
That's a total of over $3,900 in monthly commissions for referring 5 people, and then teaching those people how to do the same and assisting them in growing their own organizations. Keep in mind that nobody is limited in how many people they can refer. Some of our affiliates personally refer hundreds of other affiliates. Just a couple of these "go-getters" in your organization can really blow your income off the charts.